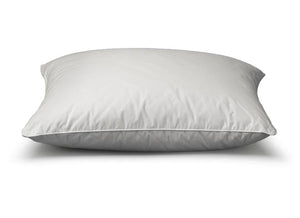 Overview
Unique beds deserve unique pillows. Unsurprisingly then, our pillow range is crafted to complement the comfort characteristics of each Hästens bed model. Teeming with the just-right blend of high-quality feathers and down, all our pillows are encased in soft, breathable 100% cotton. See how low our pillows lie? That's part of the magic. When your spine, neck and windpipe are supported in a straight position, your breathing opens up. Helping you relax, sleep more soundly and even snore less. And above all, create the optimum conditions for waking up as the very best you.

Washing Instructions: Machine washable up to 60°C.
Tumble Dry: Yes, at low temperature.
Care: Air and brush with a soft-bristled brush. Minimum load capacity 5kg; use extra rinse function. Do not beat or vacuum our down products.

Material: 
Filling: 90 percent duck down and 10 percent duck feathers.
Outer shell: 100 percent cotton